Post game reaction from Blue Blitz: "Anyway, on to the game itself. The crowd seemed pretty apathetic towards the pre-game lineups, and the first quarter. The first was full of high energy low post maneuvers by both teams. Then, in the second quarter, the Clippers bought in all of their subs minus Ricky Davis, and it was a sludgefest through the third quarter. The Thunder had their starters out, but they played like total crap. It wasn't a defensively-minded game, like you would see in a Spurs matchup. Rather, it was just total crappiness and sloppiness on both ends."
Post game reaction from the Thunderguru: "With a young team, one of the youngest in the NBA, the thing I'm looking for the most is to see my team compete. To give all and not give up. To not act like spoiled millionaires. To instead leave it all on the court. I'm proud to say that this team is doing that. If it's not winning many games, nor likely will it anytime soon, at least they don't quit and have been giving themselves an opportunity to get a win. I saw that last season. They stunk up the joint frequently, but they didn't tank. Last night they were right in this thing till the very end and that makes me proud. I know it's preseason, but my team is like a your little son."
How was the Ford Center? From the people that were there: "I went to the Thunder game tonight and was very disappointed. The in game entertainment was lacking and I really missed the Hornets. I kept telling myself that this was pre season and it will get better, but the Hornets pre season games were FUN. Where was the music, games, dancers, etc? BORING BORING BORING"
Darnell Mayberry on the offense's struggles: "Carlesimo spent most of the team's eight days of training camp establishing a defense identity. The Thunder then played five games in seven nights, leaving the team with little time to install many offensive sets. But with eight days until the Thunder's next preseason game against Phoenix on Oct. 23, the plan is to focus more on offense."
Coach Peej on last night's game:
And the new name for the dance team?

The Thunder Girls.

Good Lord, could we be any more creative? Why not, "NBA Dance Team" or "Thunder Dancers" or "Half-naked Dancers that Serve No Purpose Other Than to Have Old Drunk Men Rape Me With Their Eyes So They Don't Get Bored During Timeouts and Keep Coming To Home Games"? Were those taken? They can't be serious about that name - it has to be temporary. I realize the "Laker Girls" is a classic, time-honored tradition but come on, we're OKC, not Los Angeles. Thunder Girls. Sheesh. Hold on, why do I care about this? Oh yeah, I don't. Thunder Whatevers. Just as long as they're hot. I need something to look at during timeouts.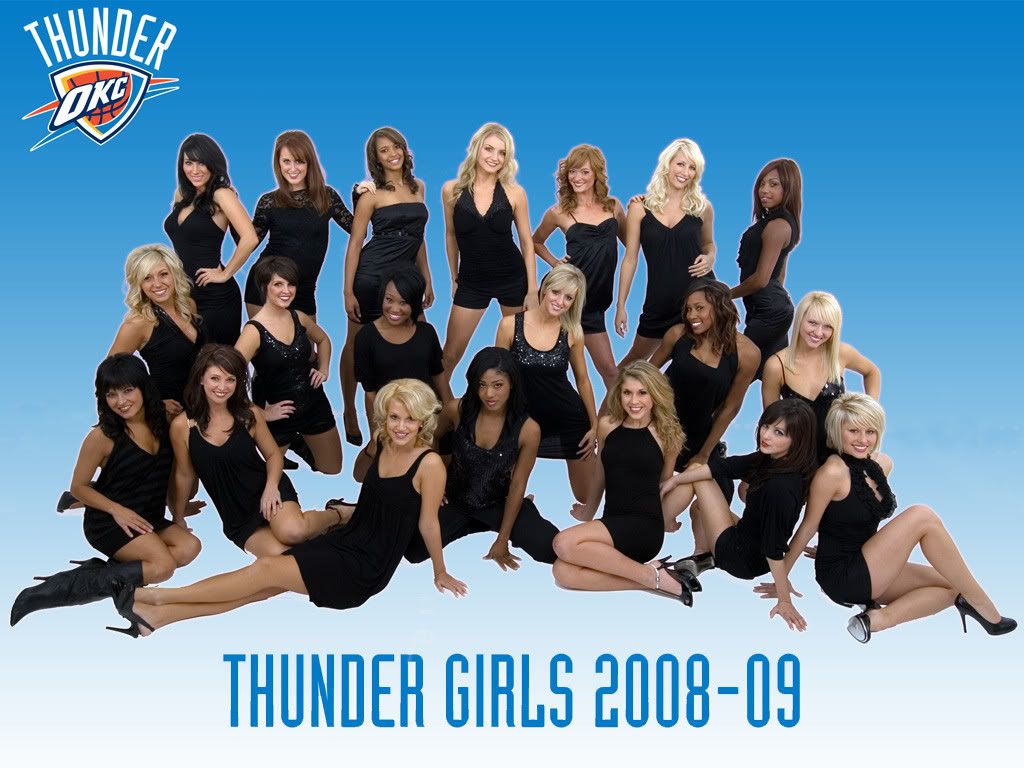 Reaction from ClipperBlog about last night's game: "Mike Taylor forced the action in the final minutes of a harrowing, albeit ugly, preseason win for the Clips in Oklahoma City last night. Al Thornton put up nice-looking numbers from the field (8-13) and the line (6-8) -- but turned the ball over five times. Baron Davis, Marcus Camby, and Tim Thomas all sat out the game. Cat Mobley somehow managed to go 0-7 from inside of 15 feet. Other curiosities: Ricky Davis swiped nine rebounds in 27 minutes. Paul Davis continues to log quality minutes off the pine -- making life much harder for DeAndre Jordan in the Clips' crowded frontcourt."